Planning a trip of any kind can be difficult, and at times stressful. This is only amplified when children are involved. This is why we advise that everything is planned meticulously in advance when taking your class on a sports tour. From picking a location to packing up and heading on your adventure, here is our quick guide to preparing for a ski trip.
Why go skiing?
Quite simply, no other holiday will give a child the magical experience they get when they are skiing in these amazing locations. Skiing is a great activity that most people don't get to take part in regularly, and ski trips also allow participants to develop a life skill. Developing this skill at a young age means it is more likely that children will go onto ski more regularly throughout their lives. Continuing sport throughout life offers benefits such as improving mental health, mood, confidence, social skills and cognitive function. An annual ski trip is something that everyone looks forward to as it is a great chance to bond and get away from the tasks of everyday life.
Sports are great for developing life skills and skiing is no different. It will teach children vital lessons such as preparation, forward thinking and self-control. Skiing is also great for physical fitness and developing physical skill sets. This why we offer schools the ability to upgrade their ski trip packages and lessons to snowboarding. This is a more specialist skill and we advise learning to ski first, otherwise participants will spend a lot of time on their bum.
Additionally, travelling abroad is always a great opportunity to practice foreign languages and experience different cultures. Likewise a trip to the slopes is a fantastic winter time holiday. Just as the weather at home is more miserable than ever, a ski trip allows you to escape but also fully embrace a winter wonderland. Importantly, a trip to the slopes allows you to get the much-needed sun but in a totally different setting to your average beach holiday.
This is essentially an all-in-one action-packed adventure trip that caters for all abilities, alongside providing relaxing experiences in incredible places. Importantly there are facilities for tour organisers to make the most of such as the après ski. A holiday like this allows you to pack a lot into a short space of time.
The important stuff
Ensure you are protected
At inspireski we are experienced in organising sports tours and want to give you complete peace of mind. Fortunately, we are ABTA and ATOL (6053) bonded. ABTA are a brand that offers advice, support, protection and expertise to the travelling public alongside working with members on health and safety. ATOL is the Air Travel Organiser's Licence, a government run financial protection scheme. These effectively offer security and protection on all flights, coaches and ferry packages. We also hold the Learning Outside the Classroom Quality Assurance Award and are fully assured member of the School Travel Forum.
Moreover, all participants must have parental permission and adequate holiday insurance before the trip. Getting insurance for ski holidays is different to typical holiday insurance as you must have special cover to participate in winter sporting activities. inspireski travel insurance is brought to you by Endsleigh Insurance, underwritten by the Zurich Group.
Research and local knowledge
The resorts that we use are well researched and handpicked by us. We have organised many trips and we always take on board feedback and 'on the ground' knowledge when we are making recommendations. We also organise our flights and transfers with our expert partners. By hand picking our resorts we can secure specialist instructors and schools meaning that tour leaders can opt for as many or as few lessons as needed.
Reassuringly, the resorts we use provide English speaking instructors. In addition to this, we have inspireski reps that will always be with the group. These reps are there to help the teacher, arrange activities, provide direct communication with the office, and offer specialist expertise. These reps are allocated on a 1 per group basis, which is something that we are very proud of as it is something that is unique to inspireski. Our reps are important as they help to make attendees feel comfortable, welcome, and safe at all times.
We also offer a price match guarantee so that our tours are accessible to all.
Location, location, location
Ultimately, we would say that deciding on a location comes down to the experience that your party are after. There are so many factors that come into play when picking a location, but rest assured; inspireski have put in the ground work and have hand picked the best resorts, locations and options for you and your party to enjoy.
Something to bear in mind from the outset is that ski trips tend to be segmented into 'local' and 'exotic' locations. Local covers Italy/Andorra and exotic relates to the USA and Canada. These are both great options, however, local tends to be cheaper largely due to being able to travel by coach, whereas the exotic locations are usually a little more difficult to plan. Nonetheless, they certainly offer that stand out experience!
You may also want to think about the culture of the location. Culture includes a wide number of things from food, to language, to popular activities. If food is a big thing then we guess that the most important question is whether children are after Italian, Canadian or American Poutine to warm the insides after a day on the slopes. Alternatively, excursions are a big factor. By picking one of our USA destinations you have the chance to visit New York. Likewise, if you opt for an Italian location such as Sestriere or Passo Tonale, you can easily arrange a trip to a more traditional Italian city such as Milan.
Kids also really appreciate a more relaxing excursion following an active day on the slopes. At our Andorra locations the guests can take part in pizza nights, bowling and skiing. We also offer unique opportunities such as snow cat riding and snow shoeing in Bardonecchia. All these are of course rounded off with a warming hot chocolate.
Should you choose a European or North American Ski Resort?
USA ski resorts offer something for everyone. The east coast provides the option to combine your trip with more of a city break and winter parks, such as the legendary Rockies, which offer some of the best snow in the world. Likewise, with the Canadian locations, you are truly spoilt for choice and can rely on having a well-managed and welcoming resort.
Our European options offer resorts for mixed abilities such as Prato Nevoso and Claviere in Italy, as well as Andorra where you can bank on having a lot of great quality snow. A great idea is to decide a location based on the experience of your skiers. Resorts offer facilities for all abilities, however, it's great to look for more green and blue runs if most of your party are beginners.
Alternatively, language can be used as a defining factor. Certain resorts appeal that little bit more due to the local language. If you are fluent in a certain language or your trip is full of pupils learning Italian, it would be a great idea to decide on an Italian resort as opposed to an American one. Moreover, European languages are not necessarily restricted to Europe; for example, 20.6% of Canadians speak French.
Keep everyone safe during the trip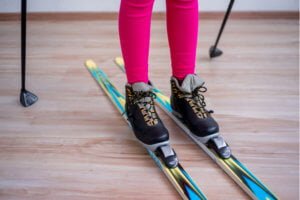 A great idea to ensure safety on your trip is to introduce walkie talkies. If you can facilitate this, then it is a huge benefit for the entire party. This will allow all group members to contact each other if they need assistance, if they are lost, or if they simply want to meet up with other members. This is probably more possible on a 1 between 2 or 3 basis. Conveniently, this leads to the next point which is that everyone skiing should buddy up. Having a ski buddy will provide that reassurance that if something does go wrong there is someone to get help. Not only this, but like any activity it is more fun with friends than alone.
Following on from the above, if anything were to go wrong on the slopes it is important to be prepared. Although skiing resorts are safe and are extremely prepared for accidents, you can never be overprepared. An emergency contact list is super handy. As all the resorts are different this is something that can be guaranteed once booked. It is important for children to have numbers such as mountain rescue, the ski resort, trip organisers, and the local ambulance service. It is also important to have a name card or identification card that lists name, school, allergies, illnesses, medication and alike. Alongside this, having your health insurance card and/or number is also a good idea.
Keeping everyone safe essentially means looking after everyone on the trip. Skiing is a highly demanding physical activity and therefore it is important to keep hydrated. surrounding by frozen water you would think that this is easy, however of course have a drink to hand can be rather difficult. We suggest always trying to have a drink on you. Smart creations such as the unique Rolla Bottle can make packing and keeping a drink much easier. "This bottle rolls up to a 6th of its size and so is compact and light weight. If you are planning on heading overseas to ski – keep it rolled small when you go through airport security and then unroll and fill it up when you are on the other side. Hands free, bulk free, hassle free!"
Phebe Liston, a Leading Physiotherapist, shares the following advice: ""As a physiotherapist in an alpine region, my biggest tip in regard to planning a ski tour is to not forget your protective gear, some of which you may not have yet considered purchasing (other than a helmet).

"The main injuries I see from ski touring often happen from things outside your control like the varying terrain, leading to direct impact injuries from falling awkwardly. In particular, they tend to happen toward the later part of the adventure when fatigue sets in. This is were protective garments can prove very effective.
"Protective garments such as G-Form undergarments have padding around the common anatomical areas that are prone to impact injuries that I mentioned above. The built in padding is lightweight and allows full movement so you don't notice you're wearing it, but if you fall, you'll be very grateful you are."
Likewise, Andrew Wynd who's an experienced Sports Physiotherapist and former Australian cross country skier assures that planning early significantly improves safety. "Snowsports are not without risk and whilst lots of fun, some simple steps can keep you safer. Statistics tell us many more injuries occur on Day 3 of a ski trip. This is thought to be from fatigue that accumulates after the first few days of excitedly whooshing down the slopes. I often suggest planning either a ½ day on Day 3 of the trip or book in some sightseeing trips to refresh the brain and body with some local culture."
Get the practice in
It is a great idea to get some practice in before hitting the snow-covered slopes. Whether it is a dry slope or and artificial indoor centre, this activity is good fun and will allow you to instantly feel more comfortable on the real thing. Our office is close to the Cardiff Ski Centre and you will often find the team getting some practice in there!
Tips from the experts

Jen from The Snow Chasers
"One of my tips for planning a ski trip is researching the resort and getting an understanding of the facilities you might need and how easy it is to access those facilities. For example, whether you have your own gear or need to hire gear, how far do you have to carry it? Do you need to use public transport? Carrying ski gear can be cumbersome and the last thing you want is to find out that you have to carry all your gear for a long distance each day. A little bit of research into the little things will make a big difference to the enjoyment of your ski trip!"